Heron Corn Mill, Beetham
A water-powered corn mill in the historic county of Westmorland, England.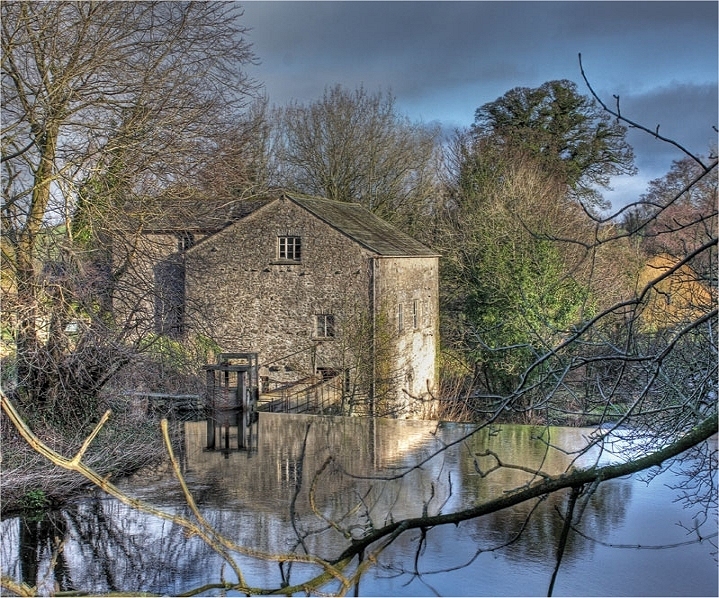 See related images and documents.
See images only.
This mill is a Heritage Partner. These organisations support our cause and share in our success. In return they receive a range of benefits, including publicity such as our featured mill pages. Find out more about the scheme...
Heron Corn Mill is located on the banks of the River Bela in Beetham, South Cumbria, close to the Lancashire border. It occupies the west bank of the river immediately below Beetham waterfalls. Heron Corn Mill is a Grade II* listed building, the listed elements comprising the attached mill race (launder), attached grain kiln/dryer and internal machinery. One of the mill's most unusual features is the impressive wooden 'hurst frame' on which the four pairs of stones are mounted, raising them approximately 6ft above their usual position level with the stone floor. The millstones and internal machinery are operated by a 14ft diameter overshot waterwheel. The mill and its associated structures are of national significance as a relatively intact, operational, 18th century milling complex, located on an ancient mill site.
The existing structure of the mill dates from the first half of the 18th century, and was essentially constructed in a single phase. Milling has been documented on, or near, the site since at least the 13th century and it is likely that the mill has been constructed on the site of much earlier mills. The building passed through many hands, its longest association being with the Dallam Estate until 1927, when it came into the hands of W. & J. Pye, millers of Lancaster. From about 1955-58, they rationalised their business and closed the mill and for the next two decades the mill was left unused.
In 1973 Henry Cooke Ltd leased the mill to the newly-formed Beetham Trust, to restore and open the mill to the public. In 1975 the mill was opened by Princess Alexandra, and has since continued to demonstrate the engineering of a water driven corn mill. Henry Cooke Ltd was later taken over by Billerud Beetham Ltd, the current owners of the freehold, from whom the Trust have a 99 year lease on the site and buildings.
A fascinating and unusual aspect of the site is the newly-installed 100Kw hydropower Kaplan turbine which generates electricity using the power of the water, and takes the site's use of renewable energy into the 21st century.
Heron mill is looked after by the Beetham Trust.
Website -
Facebook -
X (Twitter)
Full details
Location
Gallery
References
Anthony Bryan, Mills Research Group Database
Related publications in the library
Missing information? Click here to tell us about this mill.