City Mill, Winchester
A water-powered corn mill in the historic county of Hampshire, England.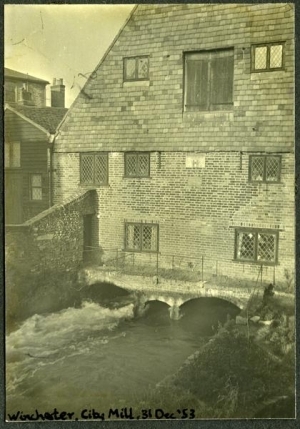 See related images and documents.
See images only.
This mill is a Heritage Partner. These organisations support our cause and share in our success. In return they receive a range of benefits, including publicity such as our featured mill pages. Find out more about the scheme...
The Winchester City Mill is a repaired water mill situated on the River Itchen in the centre of Winchester. The mill is now owned by the National Trust. It was first recorded, milling corn, in the Domesday Book of 1086.
The mill was last rebuilt in 1744 and remained in use until the early 1900s.The artist JMW Turner sketched the Mill in 1795 when visiting the area as a young student of the Royal Academy; his image is the earliest known depiction of the building. The mill was then used as a laundry until 1928 when it was offered for sale. In order to prevent its demolition, a group of benefactors bought the mill and presented it to the National Trust. Sadly though almost all of the milling machinery had been taken out, leaving only a skeleton waterwheel. In 1932 the mill was leased to the Youth Hostels Association for use as a hostel.
Work began on the repair of the mill in the 1980s. The undershot waterwheel was restored in 2005, following this machinery and gearing from was obtained from Durngate Mill which had been demolished.
On 12 March 2004, all was ready to begin flour milling once again after a gap in commercial production of some 90 years.
Full details
Location
Gallery
References
Anthony Bryan, Mills Research Group Database
Contributors
Paul Cripps, April 2017
Related shop products
Related publications in the library
Missing information? Click here to tell us about this mill.