White Mill, Sandwich
A wind-powered corn mill in the historic county of Kent, England.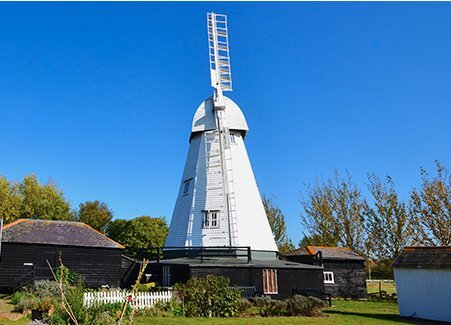 See related images and documents.
See images only.
This mill is a Heritage Partner. These organisations support our cause and share in our success. In return they receive a range of benefits, including publicity such as our featured mill pages. Find out more about the scheme...
The mill was built in 1760 and was repaired during the years 1960 - 1981 by Millwright Vincent Pargeter and is open to the public as part of the White Mill Rural Heritage Centre. The mill retains most of its original wooden machinery.
White Mill is a three-storey smock mill on a single-storey brick base. It has four spring sails. The mill is winded by a fantail and drives two pairs of millstones by wind, and a third pair is driven by an engine. Much of the machinery is made of wood, including the brake wheel, wallower, great spur wheel, and stone nuts. The millstones are overdriven.
The mill last worked by wind in 1926. A pair of sails from the demolished tower mill at Wingham were erected on the mill. The work was initially financed by Vincent Pargeter himself but in 1964, the Society for the Protection of Ancient Buildings gave a grant for the purchase of materials to repair the mill. The mill was acquired by Sandwich Borough Council in 1968, and later passed into the ownership of Kent County Council.
There is an engine house, restored in 1995 and containing a Lister petrol engine which can drive a Plate Mill to grind flour.
The Miller's Cottage which houses the museum was built in the 1830's, and along with the outbuildings are a rare survival of a complete milling site. The mill ran for almost 100 years by the Stanley family, supplying flour and animal food throughout the Victorian era, and worked up to 1957.
There is a complete Wheelwright's workshop and a Blacksmith's workshop with forge. The site with the mill is open all year round, Sunday, Tuesday & Friday mornings from 10.00 am to 12.00 pm
*Main photograph taken from the White Mill Rural Heritage Centre website*
Full details
Location
Gallery
References
Anthony Bryan, Mills Research Group Database
The Mills Archive, The Mildred Cookson Collection
Related shop products
Related publications in the library
Missing information? Click here to tell us about this mill.