St Leonard's Mill, Winchelsea
A wind-powered corn mill in the historic county of Sussex, England.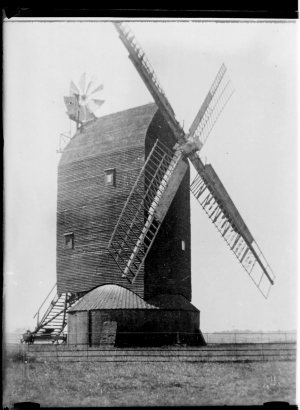 See related images and documents.
See images only.
This tarred post mill, with its steeply pitched roof, had one of the largest bodies in the south-east of England, measuring 21ft in length by 13ft in width. It retained its wooden windshaft and poll end until the end of its working life and was the last windmill in Sussex to possess this feature. There were two common and two spring sweeps. The mill was winded by a fantail mounted above the rear roof gable, driving down to a pair of wheels at the bottom of the tail ladder – a common feature among post mills in this far eastern part of Sussex and the adjacent region of Kent, and probably the work of a local millwright.
Details of the mill's internal arrangements are incomplete but a note in the HES Simmons Collection in the Science Museum Library states that it is the most interesting post mill in Sussex. It is known to have had clasp-arm brake- and tail wheels, latterly supported by a girder as the windshaft had been removed, and in addition to the two pairs of stones in the head and tail there was a third, smaller pair on the bin floor, said to be for grinding beans and to have been driven by belt from a vertical shaft off the tailwheel cogs.
The mill was an important landmark as an evocative if idealised painting of it when derelict, by Arthur Foord Hughes in Windmills of Sussex by G M Fowell (1930), suggests. Thought to have been built c1760, it ceased work in the early years of the twentieth century after which the sweeps were taken down and it gradually became derelict. In the 1950s the then Mayor of Winchelsea, Anthony Freeman, managed to get it repaired although the sweeps were not replaced.
In early 1978 a gale blew out most of the tail wall of the mill and left the structure badly damaged. Unfortunately the public body which owned it then rebuilt the buck a different shape and without the machinery, which was left to rot on the ground, although some parts were salvaged and taken to West Blatchington (Sussex) and Stelling Minnis (Kent) mills. The loss of the machinery meant that the structure was unbalanced, resulting in its collapse in the hurricane of 1987. Little now remains at the site.
Full details
Location
Gallery
References
Anthony Bryan, Mills Research Group Database
Related shop products
Related publications in the library
Missing information? Click here to tell us about this mill.