Union Mill, Cranbrook
A wind-powered corn mill in the historic county of Kent, England.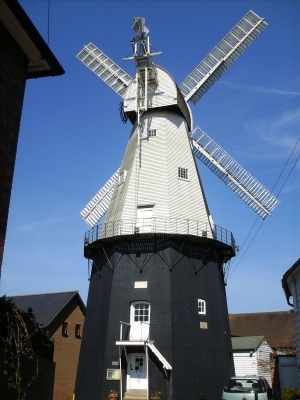 See related images and documents.
See images only.
This mill is a Heritage Partner. These organisations support our cause and share in our success. In return they receive a range of benefits, including publicity such as our featured mill pages. Find out more about the scheme...
Cranbrook Mill was built in 1814 for Mary Dobell by the millwright James Humphrey. In 1832 the mill passed into the hands of John and George Russell. It is listed Grade I and is restored to full working order.
It is a three storey smock mill built on a four storey base. Originally the mill had common sails and the cap turned to wind by hand with a chain and Y-wheel. In 1840 the mill was brought up to date and modernised with the millwrights Medhurst of Lewes fitting a new iron wind shaft and Cubitt's patent sweeps. Following this the millwrights Warrens of Hawkhurst fitted a fantail. It has eight sides, four double patent sails attached to a cast iron wind shaft and an eight bladed fan tail. There are three sets of millstones of the following diameter: 4ft, 4ft 4ins and 4ft 6ins.
As the wind was unreliable, a steam power was installed from 1863 to 1919 then a gas engine from 1919 to 1954. Since then an electric motor is used for auxiliary power.
In 1958 the mill was taken over by Kent County Council who, with the support of the Society for the Protection of Ancient Buildings, put the mill back into good repair by the Dutch Millwrights, Christiaan Bremer and his team from Adorp in The Netherlands.
In 2002-2003 work was carried out, funded by the Heritage Lottery Fund. New sweeps of typical Kentish style were built and fitted along with major work to the rest of the mill.
The mill is now run and managed by Volunteers of the Cranbrook Windmill Association, which was set up in 1982.
Full details
Location
Gallery
References
Anthony Bryan, Mills Research Group Database
Related shop products
Related publications in the library
Missing information? Click here to tell us about this mill.