Caldbec Mill, Battle
A wind-powered corn mill in the historic county of Sussex, England.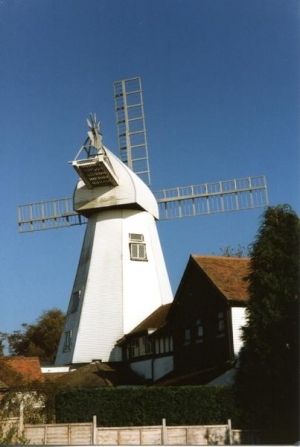 See related images and documents.
See images only.
This once fine smock mill has been used as a house since 1924 when it was purchased and stripped out by Mr A N Neve. Situated in a commanding hilltop position, the well-proportioned windmill must have been an impressive sight in its working days.
The mill comprises a four-storeyed octagonal smock tower standing on a single-storeyed brick base. A wide reefing stage surrounding the mill at first floor level gave access to the four spring-shuttered sweeps (sails) which were fitted to a cast-iron windshaft. The cap of the mill is of the waggon-shaped or hooded type which is charactistic of this area of East Sussex and neighbouring Kent. According to Martin Brunnarius, the mill drove three pairs of Peak millstones. To make the smock tower more weatherproof, and presumably also to save on the cost of white lead paint, the mill's exterior was sheathed in zinc sheets in 1894, an action which certainly helped to preserve the wooden structure of the windmill.
In 1972 the cap was re-covered with plastic weatherboarding and the original windshaft was discarded in favour of a shorter dummy one. A new set of short sails and a replica fantail were installed to partly re-create the mill's former appearance. The original cast-iron windshaft is now exhibited at Polegate Windmill Museum.
Full details
Location
Gallery
References
Anthony Bryan, Mills Research Group Database
Related shop products
Related publications in the library
Missing information? Click here to tell us about this mill.