New Mill, Cross in Hand
A wind-powered corn mill in the historic county of Sussex, England.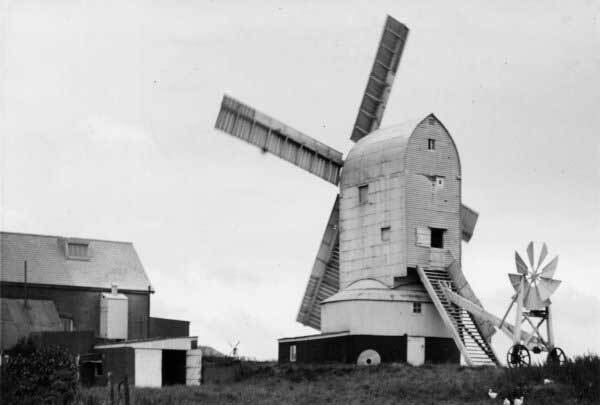 See related images and documents.
See images only.
This derelict mill was, until the late 1960s, one of the finest windmills in Sussex. It is a large post mill dating from the early 19th century which was moved twice within its working career. The mill remains in the ownership of the family that last operated it, the Newnhams. A local enthusiast, Mr R. Hawksley, financed repairs to the mill in the mid-1950s, allowing it to continue working by wind power until 1969 when a sail broke off, causing extensive damage. Since that date a limited amount of repair work has been undertaken.
The mill has a white-painted body clad in metal sheets above a two-storey roundhouse of 25ft diameter. The upper storey of the roundhouse is timber-framed and is protected by sheets of corrugated iron painted white, while the lower storey is of tarred brick. Inside the mill body there are two pairs of millstones in front of the crowntree, operated by underdrift gearing, and a single pair of overdriven tail stones placed centrally at the rear of the body. The fantail, 11ft in diameter, is mounted on a carriage at the end of the tailpole and was originally five-bladed. It was altered to 8 blades in 1907 by Neves, the millwrights of nearby Heathfield. The fantail frame is carried on large iron wheels and the lower end of the tail ladder is fitted with a separate set of small wheels. The mill body is large at 21ft in length by 12ft wide, the total height of the mill being around 45ft. The mill's sweeps are of the patent type, revolving anti-clockwise when viewed from the front, and have eight double bays of shutters. The five inner bays on the leading side do not contain shutters but are covered with wide leading boards in the local style
It was moved twice, once from Mt Ephraim, Framfield.
Full details
Location
Gallery
References
Anthony Bryan, Mills Research Group Database
Contributors
Mark Berry, May 2017
Related shop products
Related publications in the library
Missing information? Click here to tell us about this mill.