Oldland Windmill, Keymer
A wind-powered corn mill in the historic county of Sussex, England.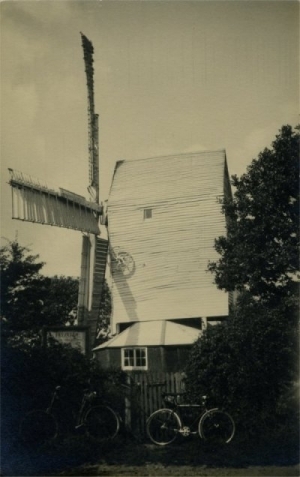 See related images and documents.
See images only.
This mill is a Heritage Partner. These organisations support our cause and share in our success. In return they receive a range of benefits, including publicity such as our featured mill pages. Find out more about the scheme...
Oldland post mill is a Grade II Listed mill built c1700. Originally an open trestle post mill, the single story roundhouse was added later. The first evidence of the roundhouse is shown on the carving on the main post by J Winchester, miller from 1839 – 1854. It has four spring sails and is turned to wind by a tailpole. The windshaft is cast iron and was cast by Boaz Medhurst, the Lewes millwright in 1873. Inside the mill are two pairs of millstones, one set in the head of the mill, the other in the tail.
Around 1870 a steam engine was installed beside the mill to provide auxiliary power. The mill worked commercially up to 1912 when it was driven by both wind and steam power. During the following years the mill fell into disrepair. The Sussex Archaeological Society acquired the mill in 1927 and in 1934 repairs were carried out by E Hole and Sons Millwrights from Burgess Hill.
In 1977 following an inspection by two millwrights, Vincent Pargeter and Edwin Hole, the mill was found close to collapsing. In 1979 the Hassocks Amenity Association leased the mill from the Sussex Archaeological Society and the following year, 1980 saw a period of volunteer-led restoration. The mill ground corn once again in 2008. Today the mill is looked after by The Oldland Mill Trust, a registered charity.
Millers known to have worked the mill are:
1828: Josh Beard
1839 – 1854: Joseph Winchester and William Winchester
1899: J Turner
1899 – 1904: John White
1904 – 1912: David Driver
Website
Full details
Location
Gallery
References
Anthony Bryan, Mills Research Group Database
Contributors
Mark Berry, June 2016; Sara and Oscar Jarman, August 2016, January 2017, April 2017
Related shop products
Related publications in the library
Missing information? Click here to tell us about this mill.