Post mill, Ramsey
A wind-powered corn mill in the historic county of Essex, England.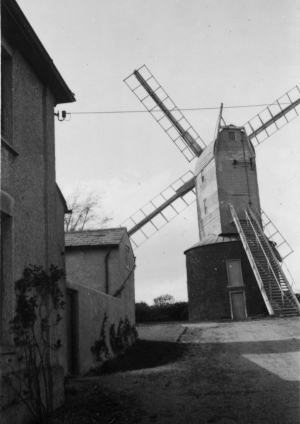 See related images and documents.
See images only.
One of the last four 'tall' post mills of East Anglia to survive, Ramsey mill was originally a Suffolk mill. It is thought to have been erected in Woodbridge early in the 19th century and moved to the present site in 1842. The mill remained in the Brooks family from 1842 until 1937, by which date it had ceased work and was sold. The last miller was Mr L. Lungley. Although the mill was retained in a complete condition by its subsequent owners it was virtually on the point of collapse when it was saved by owner Michael Organ and a group of enthusiasts in 1977. Since this time little maintenance has been carried out and the mill again requires repair.
The mill is remarkable on account of its height. The roundhouse has three floors and the trestle of the mill is carried on tall brick piers. Another uncommon feature was the roof-mounted fantail, now dismantled, which turned the mill body to face the wind via a worm drive fitted at the waist of the main post. The mill body contains three pairs of stones, two set side by side in front of the crown tree, driven by the brake wheel, and one pair behind it on the left side, driven by the tail wheel. There are two sets of spur gearing; the head stones are overdriven while the tail stones are underdriven. The last working sails, a set of double-shuttered patents, remain in position, minus their shutters.
Full details
Location
Gallery
References
Anthony Bryan, Mills Research Group Database
Related shop products
Related publications in the library
Missing information? Click here to tell us about this mill.