Foster's Mill, Swaffham Prior
A wind-powered corn mill in the historic county of Cambridgeshire, England.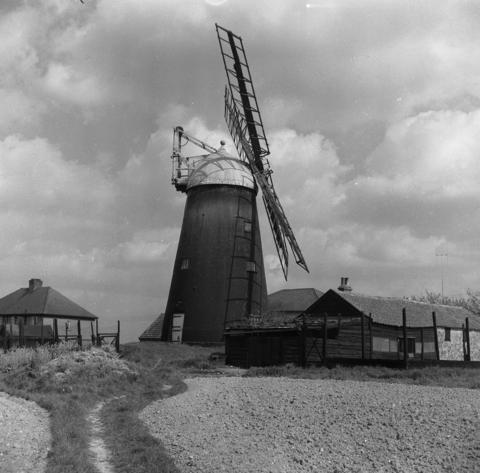 See related images and documents.
See images only.
This mill is a Heritage Partner. These organisations support our cause and share in our success. In return they receive a range of benefits, including publicity such as our featured mill pages. Find out more about the scheme...
Fosters Windmill in Cambridgeshire is a Grade II*-listed windmill that stands on the edge of the Fens. The mill was built by local millwrights Fysons of Soham in 1857. It stands on the site of an earlier post mill and it is believed that mills have stood on this site since Domesday. The Domesday Book makes reference to two mills in what is now Swaffham Prior. In 1900 it was said that from the top of Fosters Mill you could see 40 windmills, which would have included some of the drainage mills of the Fens. The second mill, a smock mill, still stands close to Fosters Mill.
The mill was purchased by the Foster family who worked the mill for all of its working life, ceasing in 1946.
The mill was rescued in 1970 and work began on a restoration process which culminated in the mill grinding corn again in 1992.
The mill now works daily, grinding locally grown organic wheat, rye and spelt in the care of the current owner, Jonathan Cook who bought the mill in 1998.
The mill tower is built of a brick skin with internal clunch lining. The internal finish is lime mortar, with the brick skin being coated in black bitumen tar to help waterproof the building.
The mill has 4 storeys, an ogee cap, and 4 double sided patent sails to power 2 pairs of French millstones.
The mill is a member of The Traditional Corn Millers Guild.
Full details
Location
Gallery
References
Anthony Bryan, Mills Research Group Database
Related shop products
Related publications in the library
Missing information? Click here to tell us about this mill.