Barrington Mills, Holbeach
A electricity-, steam- and wind-powered corn mill in the historic county of Lincolnshire, England.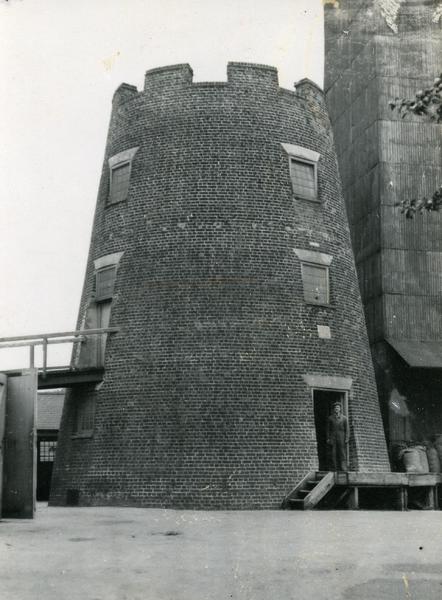 See related images and documents.
See images only.
A tall tower mill was built here in 1828 by F A Harrisson. In 1834 the mill was converted from four patent sails carried by a cast iron canister and stocks to eight sails on a cross. In March 1834, "Four patent corn mill sails, backs, clamps, wind shaft and crown wheel, nearly new" were offered for sale.

After gale damage in 1887, the sails were removed: "Five of the eight sails have been blown down causing considerable damage to the machinery. The owner has had the remaining sails taken down and intends to work the mill by steam alone. The enormous tower presents a forlorn appearance now that it is bereft of its sails" (Stamford Mercury, 10 June 1887).

The mill later became derelict and is shown as disused on the 1904 OS map. In 1908 the complex was purchased by A W Tindall, who installed a Turner roller mill powered by a 37 bhp engine. The tower mill contained the wheat cleaning plant and three pairs of stones for provender milling.

The mill was badly damaged by fire on 21 March 1928, following which the tower mill was truncated - it was eventually demolished in 1955. By November 1929 a new Henry Simon plant had been installed.

A W Tindall Ltd was bought by Garratt's in 1987, and the mill was later purchased by Whitworth Brothers in 2012.
Full details
Location
Gallery
MMAC276_141
References
Anthony Bryan, Mills Research Group Database
Sass, Jon, Windmills of Lincolnshire (Stenlake, 2012), p.88
Contributors
Peter Golden, June 2023.
Missing information? Click here to tell us about this mill.