Heckington Windmill, Heckington
A wind-powered corn mill and saw mill in the historic county of Lincolnshire, England.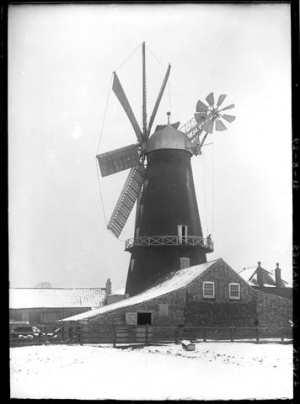 See related images and documents.
See images only.
This mill is a Heritage Partner. These organisations support our cause and share in our success. In return they receive a range of benefits, including publicity such as our featured mill pages. Find out more about the scheme...
Heckington Mill is Grade I listed and is the only 8 sailed tower windmill standing in the UK, situated between Sleaford and Boston in Lincolnshire. The mill was originally built in 1830 by Edward Ingledew of Gainsborough for Michael Hare as a five-sailed mill. Following a severe thunderstorm which blew off the cap and sails, it was repaired in 1892. The repairs were carried out by John Pocklington using a cap and eight sails from a windmill in Boston. The bricks from the Boston mill were recycled and used to build the mill house that stands at the front of the site.
John Pocklington purchased the mill tower and bake house for £250 in 1891, and the family lived at the mill for over 100 years. He also installed a large circular saw-mill in a shed on one side, driven by wind-power using line-shafts.
At the height of its working life, the mill frequently worked around the clock. Forty sacks of grain (5 tonnes) per day were often exceeded. A Ruston of Lincoln oil engine installed in the adjacent engine shed ensured that the mill continued to work even when there was no wind.
The mill ceased work in 1946 and deteriorated until it was purchased by Kesteven County Council in 1953 and made safe. The mill underwent restoration in 1986 and further major repairs were carried out in 2004.
In August 2014 a set of new sails was built and fitted by Millwright, Neil Medcalf.
The mill has 6 storeys, the ground (loading) floor, meal floor, stone floor (at gallery level) with both Peak and French stones, bin floor, top floor and dust floor, immediately below the cap.
On the ground floor there is a fifth pair of stones which was installed and could also be driven by wind if desired. The mill is fully operational and grinds its own wheat at the weekends (providing the wind permits) and sells the flour in the mill shop.
Heckington is believed to be the only location in the UK where there have been windmills with 4, 5, 6, and 8 sails.
The mill is now owned by Lincolnshire County Council, and operated and run on a voluntary basis by Heckington Windmill Trust.
Full details
Location
Gallery
References
Anthony Bryan, Mills Research Group Database
Gregory, Roy, The Industrial Windmill in Britain (Phillimore, 2005) p 138
Related shop products
Related publications in the library
Missing information? Click here to tell us about this mill.