Green's Mill, Sneinton
A wind-powered corn mill in the historic county of Nottinghamshire, England.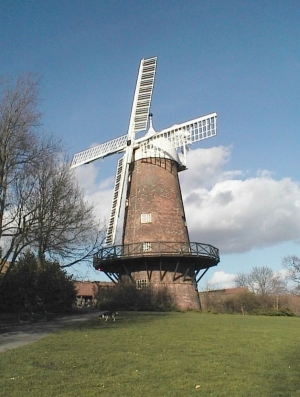 See related images and documents.
See images only.
A Grade II Listed brick tower mill, one of the earliest examples in the county, built in 1807 for the father of George Green, an eminent mathematician and scientist of his day. Green's Theorem and Green's Functions, as they are called, are used by scientists and engineers the world over. The mill ceased work relatively early, circa 1862, and although shorn of its sails was preserved in a relatively complete condition, its cap covered with sheet copper. Unfortunately a fire in 1947 destroyed the contents of the mill. Later, interest in George Green was revived and, during the 1980s, the mill was restored as a memorial to him. It milled corn again in December 1986.
Originally fitted with three pairs of overdriven millstones, the mill now has two pairs which are located on the second floor. There are five floors above the ground and there is a wide reefing stage at first floor level, from which the two common and two spring sails are adjusted. The sails are carried on stocks in a poll end. Additional machinery includes a sack hoist and a grain cleaner. The ogee-shaped cap is winded by an eight-bladed fantail. The brake wheel is a clasp-arm wooden wheel with iron section teeth, driving a cast-iron wallower with wooden cogs. The great spur wheel, constructed of four cast-iron sections, drives two stone nuts with wooden cogs. Some of the machinery was obtained from a derelict tower mill at Brant Broughton (Leadenham) in south Lincolnshire.
The mill is now a working mill and museum.
Full details
Location
Gallery
References
Anthony Bryan, Mills Research Group Database
Contributors
Sara and Oscar Jarman, August 2016, January 2017
Related shop products
Related publications in the library
Missing information? Click here to tell us about this mill.