Grove's Mill, Coleshill
A wind-powered corn mill in the historic county of Buckinghamshire, England.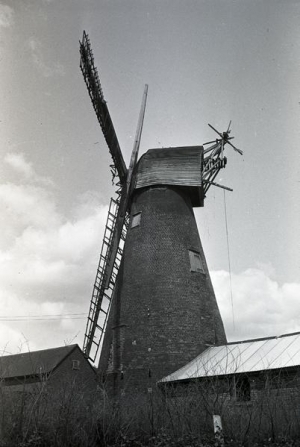 See related images and documents.
See images only.
Built in 1856 for Thomas Grove, this tower mill last worked c 1903. The tower is four-storey red brick, with a boat cap, and it had 4 patent sails. For a period it served as a Girl Guides Headquarters. By the 1970s it had become a house conversion, and had a windshaft but no sails.
Full details
Location
Gallery
References
Anthony Bryan, Mills Research Group Database
Buckinghamshire County Museum Archaeological Group, "Buckinghamshire Windmill" (Records of Bucks, 20 (4), 1978)
Smith, Arthur C, Windmills in Buckinghamshire and Oxfordshire: a contemporary survey. (Stevenage Museum publications, 1976), p. 17
Smith, Donald, English windmills, vol 2 (Architectural Press, 1932), p. 136
Vince, John, Windmills in Buckinghamshire and the chilterns (Format Publishing, 1976), p. 18
Related shop products
Related publications in the library
Missing information? Click here to tell us about this mill.