East Knoyle Mill, East Knoyle
A wind-powered corn mill in the historic county of Wiltshire, England.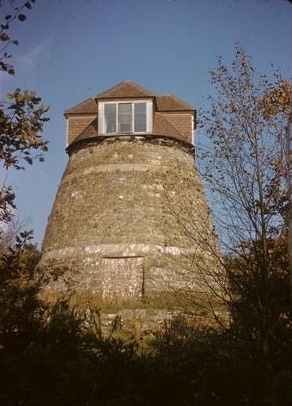 See related images and documents.
See images only.
This mill is a Heritage Partner. These organisations support our cause and share in our success. In return they receive a range of benefits, including publicity such as our featured mill pages. Find out more about the scheme...
East Knoyle tower mill in Wiltshire was originally built in the mid 1700s using local Shaftesbury Green stone and rubble. It has a battered tower, built on a circular plinth/mound and was used for grinding barley meal. It last milled in 1896. It is built of rubble stone with two decorative bands of ashlar. The entrance to the mill is by steps from ground level. There are the usual two opposing doorways, the north one retaining a beaded stone architrave.
A sketch of the mill drawn in the early 1900's shows the tower minus its cap but with the remains of the curb and fantail. The windshaft, brakewheel and canister are also shown in place. Prior to this the mill had a weather-boarded cap and sails.
The cap and sails were destroyed in a fire caused by a firework used in the celebrations for the Coronation of King George V in 1911 and the remains of the workings were subsequently removed.
The mill was then part of the Clouds Estate and Lord Wyndham had the derelict tower converted to an artists studio/folly somewhere between 1913-25, the building still now retaining the four hipped dormers in the roof but the original glazing having been replaced by wooden shutters.
In 1936 the SPAB (Society for the Protection of Ancient Buildings) was in correspondence to save the mill although conversion to a summer house seemed the best option of saving the structure. The mill today is in good private ownership and has changed little in appearance from this photographs taken in 1959.
The mill was listed Grade II on 6th January 1966.
Full details
Location
Gallery
Sketch of the mill c 1930 by Stanley Freese.
The mill on 16 June 1940. Photo by H E S Simmons.
The mill on 5 November 1959. Photo by Frank Gregory.
References
Anthony Bryan, Mills Research Group Database
Missing information? Click here to tell us about this mill.