West Mill, Balmuir, Dundee
A water-powered fulling mill in the historic county of Angus, Scotland.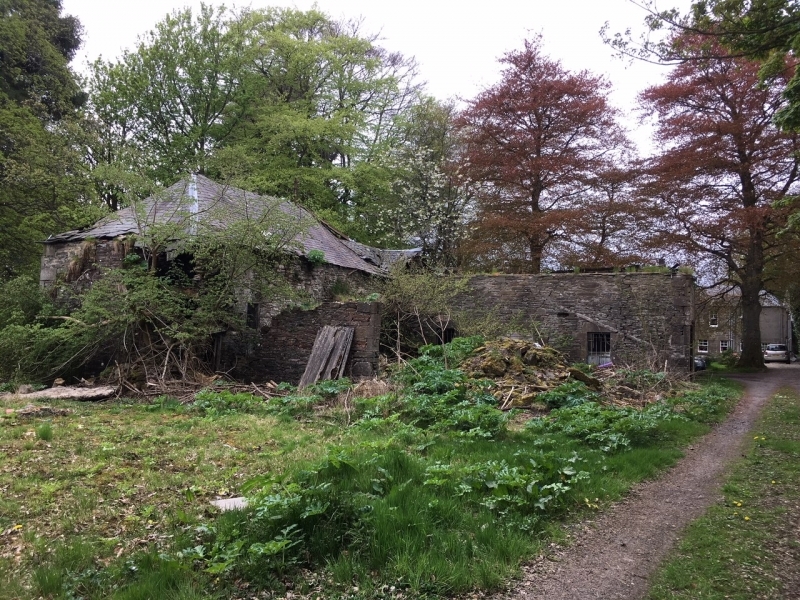 See related images and documents.
See images only.
West Mill of Balmuir is a category B-listed (Historic Scotland designated reference LB19036), L-shaped, early 19th Century plash mill set on an elevated site near to the Dighty Burn, on the northerly perimeter of Dundee. It has a breastshot water wheel located a short distance to the front of the building. The wheel is of an iron and timber construction with transmission running from the wheel through a series of underground chambers adjoining the southern elevation of the mill building. The mill and wheel are currently in a derelict condition. The roof has collapsed and the eastern end of the southern elevation has collapsed.
The mill building is of a rubble sandstone construction, with stugged ashlar dressings, pink ashlar quoins and a grey slate piended roof. In the northerly wing there were 5 stable stalls with cobbles and setts (still remaining) in the floor.
In Scotland many waulkmills and fullers mills were known by the alternative name of plash mill. Waulking, or fulling, is a process of making cloth thick, soft and felted by a process of soaking, beating and shrinking. Cloth straight from the mill was too greasy and loose to use and had to be washed and pounded by water driven hammers to make it suitable for clothing etc. (replacing the previous means of washing with soap / urine in tubs and then beating by hand).
After pounding and rinsing, the cloths were stretched on racks of horizontal oak bars to dry. Both rails were studded with tenterhooks. Tenterhooks are L-shaped nails that hook into the cloth and keep it stretched – this is the origin of the expression 'to be on tenterhooks'.
West Mill of Balmuir is a watermill and this suggests that the cloth thickening process had been an automated one there at some time although there are no hammers remaining in the mill today.
Full details
Location
Gallery
References
Contributors
Jo Chapman, November 2018.
Missing information? Click here to tell us about this mill.