Junction Meal and Flour Mills, Leith
A electricity- and steam-powered corn mill and oatmeal mill in the historic county of Midlothian, Scotland.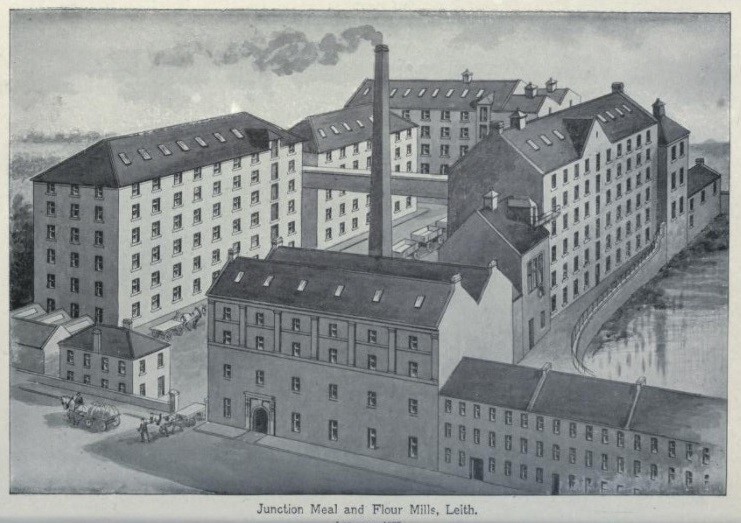 See related images and documents.
See images only.
The mill was purchased from Messrs John Inglis & Sons in August 1897, when it was originally known as the Midlothian Oatmeal Mill, by the Scottish Co-operative Wholesale Society (SCWS). The building was described as lacking the 'the ornate appearance of other Wholesale buildings', this was chiefly because it was bought for and not erected for the SCWS.
The mill could produce 12 flour sacks per hour. Initially intended just to produce oatmeal, it could produce 700 bags of oatmeal weekly. By 1907 the milling plant had been expanded. It was expanded again before the First World War. By 1914 the mill was capable of producing 28,427 sacks of oatmeal. This figure had increased to 46,444 sacks in 1918.
The mill was reconstructed in 1939, designed by the SCWS Architectural Department and Mr. Walter Underwood. It ceased milling and was demolished in the 1970s when the new Chancelot Mill was built.
Full details
Location
Gallery
References
Flanagan, James A., Wholesale Co-Operation in Scotland: The Fruits of Fifty Years' Efforts (1868-1918), (Glasgow, 1920)
The Co-Operative Wholesale Societies Limited Annual 1915, (Manchester, 1915)
Missing information? Click here to tell us about this mill.