CWS Sun Flour Mills, Manchester
A electricity- and steam-powered corn mill in the historic county of Lancashire, England.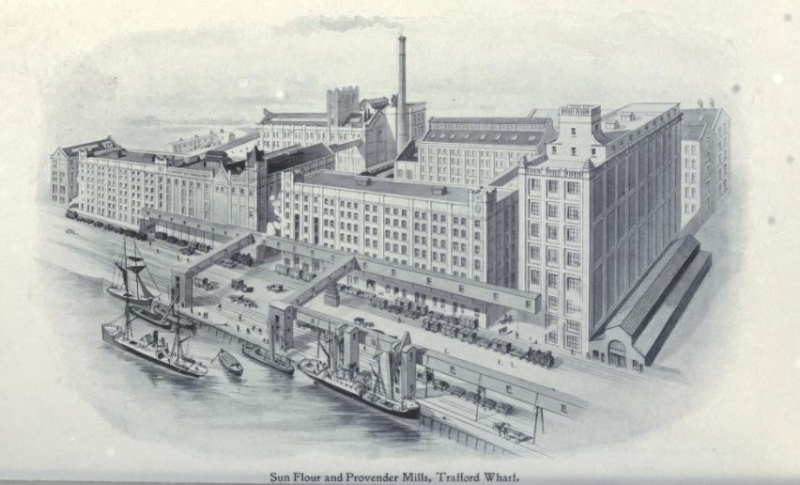 See related images and documents.
See images only.
The mill was opened in 1906, after it purchased from Baxendells by the Co-operative Wholesale Society (CWS). The mill was then immediately enlarged. The original warehouse and provender mill were turned into silos whilst the old office, a small warehouse and cottages were pulled down to make room for a new warehouse and provender mill. The Sun mill had a capacity, which ran at 30-40 sacks per four. This was increased to 70 sacks in the first three years of ownership.
In 1913, it became the U.K.'s largest mill. It was damaged during the Second World War. After the mill became financially unviable it was closed in December 1978 and demolished a few months later.
Full details
Location
Gallery
References
John F. Wilson, Anthony Webster, Rachael Vorberg-Rugh, Building Co-operation: A Business History of The Co-operative Group, 1863-2013 (2013)
Shorland-Ball, Rob & Brian McGee, The roller milling revolution: Master list of researched and located mills (2013), mill no. 117
The Co-Operative Wholesale Societies Limited Annual 1915 (Manchester, 1915)
Contributors
Stephen Birds, February 2021.
Missing information? Click here to tell us about this mill.