Heage Windmill, Heage
A wind-powered corn mill in the historic county of Derbyshire, England.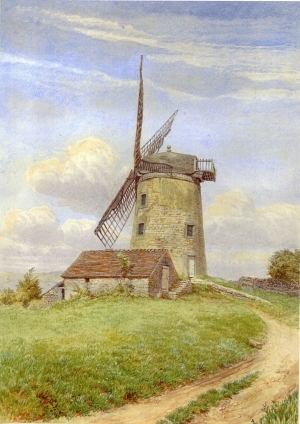 See related images and documents.
See images only.
This mill is a Heritage Partner. These organisations support our cause and share in our success. In return they receive a range of benefits, including publicity such as our featured mill pages. Find out more about the scheme...
Heage Windmill was Grade II* Listed on 29th November 1965. It is an early 19th century mill, built of coursed squared sandstone with ashlar dressings. It has 3 storeys with an ogee cap. It is fitted with 6 sails and drives 2 pair of stones.
The first recorded reference to a mill in Heage is in 1791. By 1798 the mill was offered to be let with 2 pair of stones and a dressing machine.
In 1850 four patent sails were put on the mill with the addition of the fantail.
In February 1894 the mill was tail winded and the four sails blew off in the gale. Repair of the mill commenced but the four sails were replaced with six, to give the mill more power.
The mill continued in use until 1919, operated by Joseph and Enoch Shore. Sadly, in 1919 the fantail was badly damaged in a gale and the windmill closed down. It was virtually left over the next 50 years. In 1961 the mill with was hit by a lightning strike that damaged the sails; at this time the cap of the mill was intact so it was keeping out the worst of the weather. In 1968 the mill was purchased by the Council for £350.
Early 1970 saw work begin to repair the mill with a new cap and sails and much interior work. It did not work again until 1989.
In 1996 the Heage Windmill Society was formed.
In 1997 the mill was again struck by lightning but thankfully not much damage was done. This should not happen again as a lightning conductor has now been installed!
2000 saw funding in place for major work to the mill, and in 2002 the mill opened as a fully working mill grinding flour once more. The mill has a number of millers and volunteers who all help to keep the mill running on a regular basis.
Heage Windmill is owned by Derbyshire County Council but is controlled and operated by Heage Windmill Society, a charitable organisation (Reg Charity No 1065980), to whom all profits from running the windmill are donated by the Friends to help ensure its continued preservation.
Full details
Location
Gallery
References
Anthony Bryan, Mills Research Group Database
Related shop products
Related publications in the library
Missing information? Click here to tell us about this mill.