CWS Flour Mill, Silvertown
A electricity- and steam-powered corn mill in the historic county of Essex, England.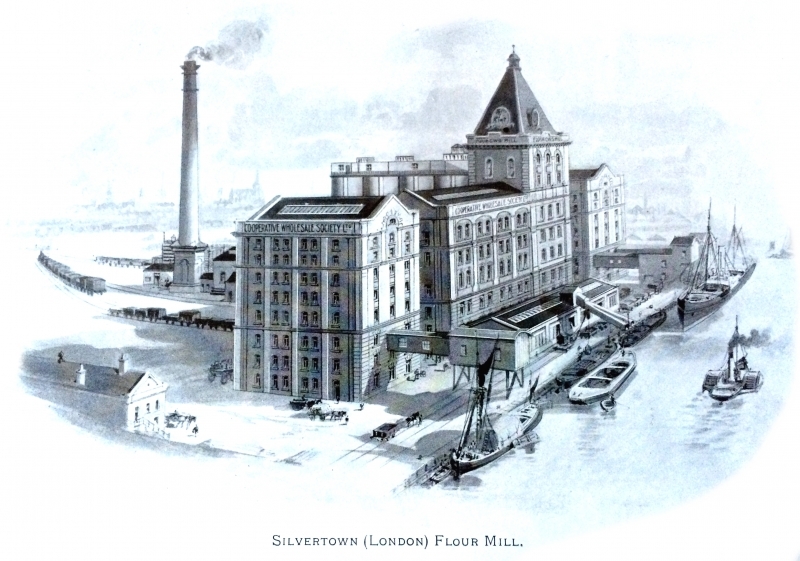 See related images and documents.
See images only.
The mill was built on land purchased in 1897, after demand for a flour mill in the South grew. Designed by the Co-operative Wholesale Society (CWS) architect, Mr. F. E. L. Harris. Building on the light gravel of the river bank presented difficulties, so 'Sixty five-foot cylinders, in 300 six-foot sections, had to be sunk through the surface drift and filled in with concrete to form a solid base on which to build the mill. It was opened on the 20th June 1900. A new mill was erected 1938-1944 based on L. G. Ekins design.
Mill started with machinery installed by Robinsons operating at 12 sacks, of 280lbs, per hour. Mill had been upgraded to 50 sacks per hour by 1915.
Property extensively damaged and some workers killed when a munitions factory in Silvertown exploded in 1917.
It ceased milling in 1981 when the Royal Docks were closed. The building was demolished in the 2008.
Full details
Location
Gallery
References
Shorland-Ball, Rob & Brian McGee, The roller milling revolution: Master list of researched and located mills (2013), mill no. 108
The Co-Operative Wholesale Societies Limited Annual 1915, (Manchester, 1915), p.122.
Missing information? Click here to tell us about this mill.