Vernon's Mill, Birkenhead
A electricity- and steam-powered corn mill in the historic county of Cheshire, England.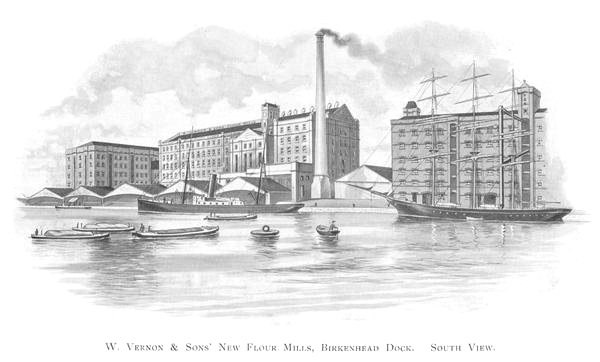 See related images and documents.
See images only.
Opened in 1899 by W Vernon and Sons, the mill was considered one of the finest and most up to date of its time. It had two separate milling plants on the Henry Simon system, with 80 rolls between them and several hundred dressing and purifying machines, all powered by a 1200 horsepower steam engine and producing 70 sacks per hour. The mill produced Vernon's brand of 'Millenium Flour'.
Vernon and Sons became part of Spillers in 1920 and the mill was mothballed in around 1935. In 1948 the mill was remodelled with Simon equipment and became known as Homepride Mill. The mill closed in 1999 and was demolished. The separate corn warehouses were converted to accomodation.
Full details
Location
Gallery
References
Jones, Glyn, The Millers (Carnegie Publishing, 2001), p. 196, 227
Shorland-Ball, Rob & Brian McGee, The roller milling revolution: Master list of researched and located mills (2013), mill no. 123
Related shop products
Related publications in the library
Missing information? Click here to tell us about this mill.