Tower mill, Willaston
A wind-powered corn mill in the historic county of Cheshire, England.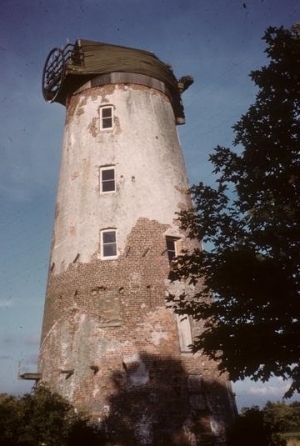 See related images and documents.
See images only.
The tower mill in Willaston was built in 1800 William Lightbound (b 1770) to replace an earlier post mill, and was constructed by millwright Henry Gardener. At five storeys high it was the tallest windmill every built on the Wirral peninsula.
After ownership by the Rose and Price families, the mill was purchased by the Radfords in 1860, who invested significantly in updating the mill and machinery in order to compete with newer steam mills. A steam engine and additional stones were installed, bringing the total number of stones to ten pairs, six powered by steam and four by wind, and the mill was run for 24 hours a day provided wind conditions were suitable. The Radfords brought grain from Birkenhead docks by traction engine, and owned two ships, which they used to import grain from Russia.
Unfortunately financial problems led to the mill being repossessed in 1879, and in later years it was run on a less ambitious scale, with the steam engine no longer functioning and the mill used for producing animal feed. It was owned by the Hawkins, Catto and Hale familes, and ceased work in 1930.
The mill was purchased by the Wirral Society in 1937 for preservation. WWII put a stop to preservation activities, however, and the mill was used as a lookout post. The mill began to fall into disrepair, eventually being purchased by Teresa Morris in 1958 for conversion to a house.
Full details
Location
Gallery
References
Anthony Bryan, Mills Research Group Database
Patel, Rowan, The windmills and watermills of Wirral: A historical survey (Countyvise, 2016), p. 146
Missing information? Click here to tell us about this mill.