King's Flour Mills, Knottingley
A electricity- and water-powered corn mill in the historic county of Yorkshire, England.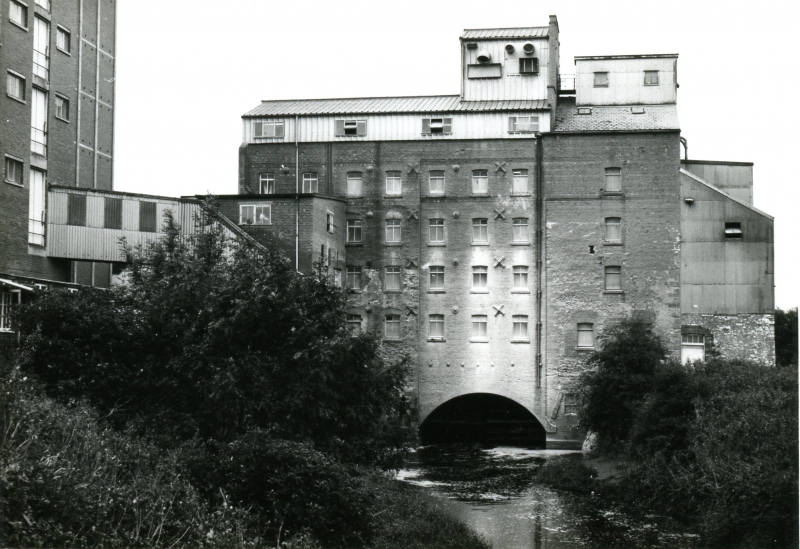 See related images and documents.
See images only.
There have been mills in this area since the Middle Ages. The name 'King's Mill' was first used when the Manor of Knottingley became crown land after the Wars of the Roses. In 1636 the manor was purchased by the Ingram family, and in 1774 the mill was bought by the Aire and Calder Navigation Company, in an effort to end conflict between the miller and boatmen.
In the 19th century the mill was enlarged and rebuilt, and in 1873 it was let to John Croysdale of Whitley. Roller milling machinery was installed in 1884, followed soon after by a fire which caused significant damage. After repair the mill was leased to Ellis Williamson in 1902, complete with new plant, and from 1903 was powered by a horizontal single-cylinder steam engine. Another fire followed in 1912.
The mill later became part of Allied Mills and then ADM Milling Ltd, and has been completely rebuilt so that no part of the original watermill building survives.
Full details
Location
Gallery
References
Gregory, R and Turner, L, Windmills of Yorkshire (Stenlake Publishing Ltd, 2009)
Shorland-Ball, Rob & Brian McGee, The roller milling revolution: Master list of researched and located mills (2013), mill no. 189
Taylor, Kate, Wakefield District Heritage Volume II (Architectural Heritage: Wakefield District Group, 1979), p. 116
Missing information? Click here to tell us about this mill.