Bökars Estate Mill, Gäddrag
A wind-powered corn mill in Finland.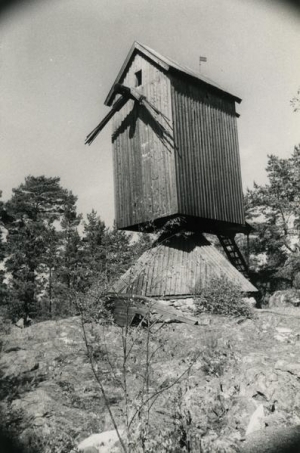 See related images and documents.
See images only.
This is a complete reconstruction of the old mill that stood on the site and the workmanship is of a very high order, but unfortunately when visited there were no sails or tailpole. Unusually, the mill has an octagonal roundhouse with a roof sloping down to the ground. The crosstrees rest on solid rock; they are doubled and so are the quarterbars, i.e. sixteen in all, 8 in. by 9 in. deep. The post is 32 1/2 in. sq. at the base, built up of sixteen pieces. The roundhouse is approximately 21 ft. across inside and the height of the mill overall is 33 ft. 6 in. Below the bottom floor of the mill is a collar and the sheers extend backwards and support the ladder at the tip. The octagonal wooden windshaft, 14 in. across the flats behind the brakewheel, has an intermediate journal bearing on the rear tie beam. The body of the mill is cross-braced with double side girts, and at all main corners there are knees of spruce; all other construction is in pine. Above the tail journal was a woodpecker's nest and in the rear of the right-hand side of the mill body a hole through which the woodpecker had gained entrance. The clasp-arm brake wheel is 7 ft. 6 in. diameter with sixty cogs, driving a lantern pinion with twelve staves dove-tailed in. Both staves and cogs are of birch and the wooden brake is built up in short wooden segments reinforced by an iron band in sections on the outside. There is an underdrive for a single pair of composition stones through two cast-iron spur-gears which are tentered from above with a cast-iron hand-wheel almost at floor level. The twist peg for the shoe is on the horse and has a ratchet.
A platform in the tail of the mill gives access to a door on the left-hand side of the rear and just inside this is a hand sack hoist. The impression gained was that the mill had been built extremely well by a millwright who was not necessarily following the traditional design, and had probably designed the drive for the stones and their mounting as he would have done for a watermill.
Full details
Location
Gallery
References
TIMS Mills GPS Database Mill ID 6894
Wailes, Rex, & Auvo Hirsjärvi, "Finnish Mills Part IV: Post Mills", (Transactions of the Newcomen Society, 45, 1972-1973, pp.93-104)
Missing information? Click here to tell us about this mill.