Hautanen Farm Mill, Rannanjärvi
A wind-powered saw mill in Finland.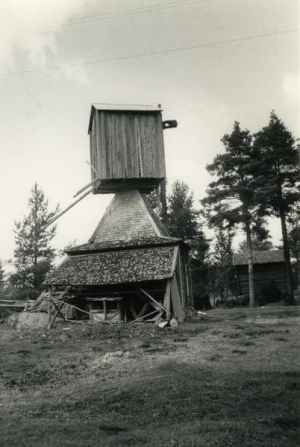 See related images and documents.
See images only.
The mill body has vertical boarding and a shingled roof. The centre beam could be adjusted by wedging to get the upright shaft vertical. The neck journal of the wooden windshaft has iron strips nailed on without any intermediate wooden portion. The headwheel is compass-armed with the arms wedged in place fore and aft and a wrought iron ring on the windshaft just aft of this headwheel. The stone chamber is square, built of interlocking balks of timber, and the tapered portion of the roof is shingled. At one side there is an open lean-to shed with a shingled roof which sheltered a disused circular saw. In the roof of the stone chamber is a sack hoist with capstan handles. The quarterbars carry down to the corners of the building. The horse of the single pair of stones is made of naturally curved wood at the front, well chosen to give a vertical piece in front and a horizontal piece to support the hopper. A crank at the bottom of the stone spindle worked the shingle machine, but there was so much junk piled up that it was impossible to find out how the saw was driven.
Full details
Gallery
References
Wailes, Rex, & Auvo Hirsjärvi, "Finnish Mills Part III: Hollow Post Mills", (Transactions of the Newcomen Society, 44, 1971-1972, pp.99-118)
Missing information? Click here to tell us about this mill.