Chicken-Hawk Mill, Kuortane
A wind-powered mill in Finland.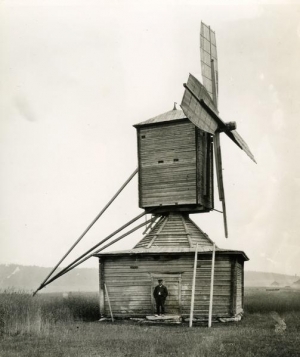 See related images and documents.
See images only.
This mill was built in 1863 on Yli-Mäyry Farm and moved in 1913 to Puoliväli Farm in Lehtimäki Parish as part of a dowry when a daughter was married. It worked during the last war and in 1964 was moved to the museum. There is a saying which in translation reads:
"The mills of other people turn clockwise,
The Mäyry Mill turns anti-clockwise."
The mill has four sails tapering with curved sides of which the leading side is narrower than the driving. The body of the mill is of interlocking timber construction with the corners covered on the outside. The roof is pyramidal and has a weather cock in which the date 1863 has been cut. There are three tailpoles, two bolted to the outside of the mill body at the front corners, about 12 in. below the sheers, and the upper one going into the body of the mill. There is no crowntree, but a clasp arm serves as a steady bearing to the top of the hollow post which is 27 in. diameter and built up of eight pieces. Twin crosstrees are supported on beams parallel to the walls of the stone chamber and these in turn are supported by two beams across the corners of this chamber, with another above the main beam somewhat longer. Four quarterbars come down to the fillers between the ends of the crosstrees and two come down to the corner braces; the ends rest on the lower and the faces on the upper ones. The headwheel drives a lantern wallower and the wooden upright shaft is 8 in. diameter. The neck bearing of the windshaft is of basalt. The tail beam has a wedge and adjusting nut. The single pair of stones is tentered by direct screw and nut. There is a sack platform at the back of the hopper.
Full details
Location
Gallery
References
TIMS Mills GPS Database Mill ID 2990
Wailes, Rex, & Auvo Hirsjärvi, "Finnish Mills Part III: Hollow Post Mills", (Transactions of the Newcomen Society, 44, 1971-1972, pp.99-118)
Missing information? Click here to tell us about this mill.