Aittomäki Farm, Jaläsjarvi
A wind-powered mill in Finland.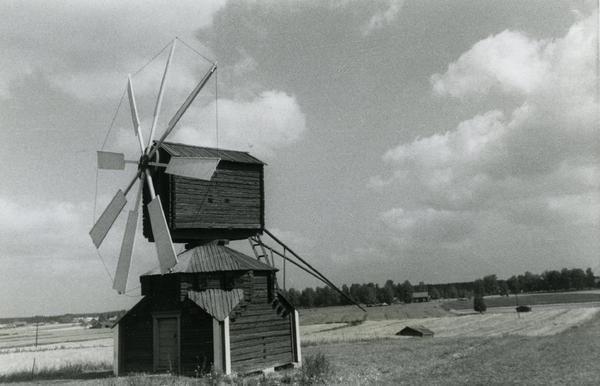 See related images and documents.
See images only.
This mill, on its original site, has been given to the local Museum Society which has repaired it. The date is 1853. There are now eight sails, but originally it had ten or twelve. The elongated body is of interlocking log construction with a boarded roof, the Y-shaped tailpole was originally longer and the straight-sided tapering sails have been shortened. The body has a short pair of prick-posts at the tail, but none in front' there are a breast beam, a centre beam and a tail beam' the centre beam is supported by uprights. The top of the hollow post is held in a clasp arm frame. The collar is put together with pegs and wedges. The measurements of the mill body inside are 6 ft. wide, 12 ft. 5 1/2 in. long and 10 ft. 8 in. high. The windshaft is 10 in. diameter and, as there is no brake, two sprags are provided to hold the headwheel. This wheel has been converted from compass to clasp arm and, where each end of the compass arms came, there are blocks sunk into two recesses between adjacent round cogs of 4 in. pitch with round shanks fixed with wooden pins. The lantern wallower has eight staves. An iron flange beyond the neck journal holds a large wooden flange to which the nails are attached.
The stone chamber is built up from logs, adzed to a size of 6 in. to 8 in. square. It is 13 ft. 10 in. square inside. The height to the eaves is 11 ft. 5 in., the crosstrees are 12 in. by 11 1/2 in., the hollow post 22 in. by 23 1/2 in. at the bottom. The wrought iron stone spindle is 2 in diameter at the upper end and 1 1/2 in. square at the lower end. There is a single pair of stones with an octagonal casing and a very long suspended hopper which moves with the shoe. The shoe has a wooden lifting gear with a cord, and there is also a lifting gate on the hopper. The stone spindle has a bridging box at the bottom and the stones are 38 in. diameter and of granite from Lauhavuori Mountain.
Full details
Gallery
References
Wailes, Rex, & Auvo Hirsjärvi, "Finnish Mills Part III: Hollow Post Mills", (Transactions of the Newcomen Society, 44, 1971-1972, pp.99-118)
Missing information? Click here to tell us about this mill.