Hollow-Post Mill, Pielavesi
A wind-powered mill in Finland.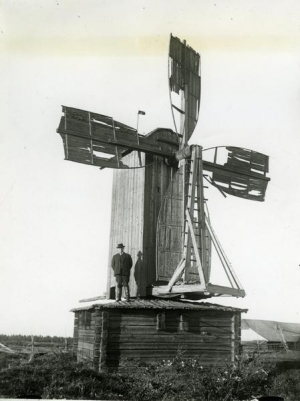 See related images and documents.
See images only.
This mill has a tall, vertically boarded body with a gambrel roof, equal oar-shaped sails, and a platform built out from the base of the breast to carry a support (which is also a ladder) for an outboard bearing at the extreme end of the windshaft. It is the only known hollow-post mill to have this arrangement. It has a square stone chamber of interlocked timber construction and a boarded roof.
Full details
Gallery
References
Missing information? Click here to tell us about this mill.