Hollow-Post Mill, Hammarland
A wind-powered mill in Finland.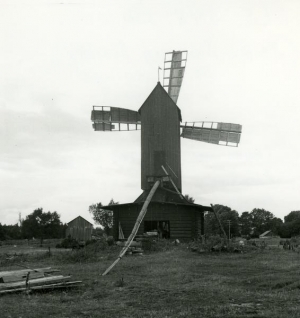 See related images and documents.
See images only.
There was a chicken-hawk mill here with a vertically boarded body of about the same proportions as those of an English post mill. It was mounted on a large rectangular building of interlocked construction which housed a saw and had openings at each end to pass the timber through.
Full details
Gallery
References
Wailes, Rex, & Auvo Hirsjärvi, "Finnish Mills Part III: Hollow Post Mills", (Transactions of the Newcomen Society, 44, 1971-1972, pp.99-118)
Missing information? Click here to tell us about this mill.