Royal Victoria Mill, Dartford
A electricity- and water-powered corn mill in the historic county of Kent, England.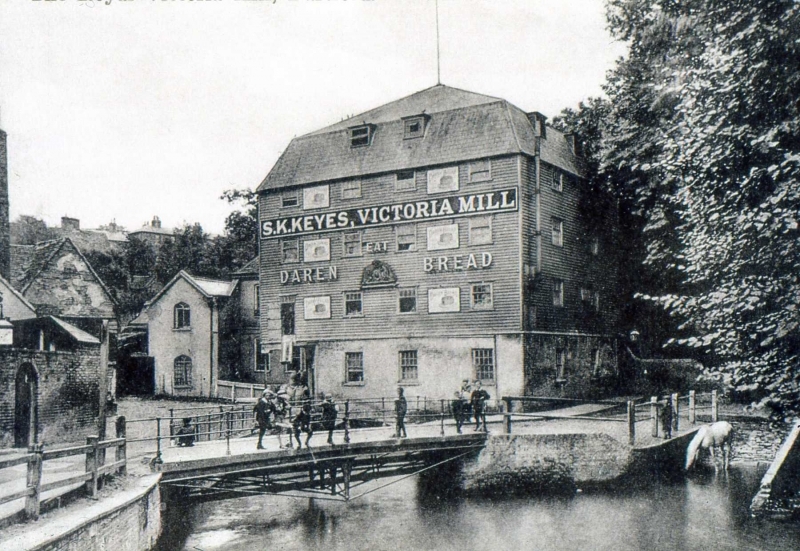 See related images and documents.
See images only.
This mill stood on an artificial diversion of the Darent thought to have been made in the fifteenth century, for the construction of a fulling mill owned by Henry Bamme. By 1715, it was a corn mill let to Thomas Durrant, who in turn passed it to John Loader in 1749. On his death in 1787, the mill passed to his brother William, who built the substantial structure last here at the cost of £2,000.
In 1810, James Hard took the mill and was granted the royal seal of approval by George IV, hence the renaming of the structure to Royal Victoria Mill by a subsequent owner . In 1839, it was sold by Mr G Hudson, and described as driving four pairs of stones. Later occupants included the milling firm of Cannon & Gaze, and L & S Keyes, who marketed the world famous 'Daren' brand of flour. It was last worked by Leonard Keyes in the late 1890's, who kept the structure standing complete as a store as a mark of respect to its many years of service.
As with the other mills in the town, the structure was purchased by Burroughs Wellcome in 1925, when it was again used as a store. It remained disused until January, 1941, when the upper wooden stories were removed due to the possibility of the structure being bombed and causing a fire in the town centre. Much of the machinery, including four pairs of stones, is thought to have been in the building at the time of its demolition.
The structure itself was an impressive large five storey white weatherboarded structure with a pitched slate roof. On the front of the structure, the royal crest remained right up to demolition. The first floor was of white painted stone, and still exists, in use by the R.A.F.A. as a meeting hall; the watercourses have been diverted away from the remains. No machinery remains.
Full details
Location
Gallery
References
Alan Stoyel, Mills Archive Foundation Trustee
Milling (c1900)
The Miller (3 November 1913)
Contributors
Rob Cumming
Missing information? Click here to tell us about this mill.