Chart Gunpowder Mills, Faversham
A water-powered gunpowder mill in the historic county of Kent, England.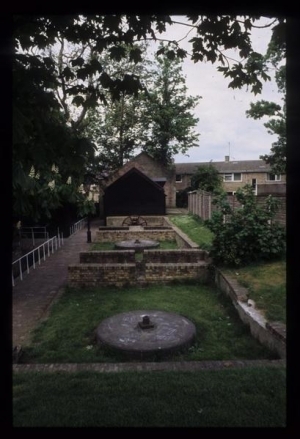 See related images and documents.
See images only.
The site is a scheduled Ancient Monument. Surviving walls have been restored and preserved. Last surviving gunpowder mill of at least four 'double mills', Chart Mills were established by the government as part of the Home Works in 1760. It closed in 1934, and all of the mills were demolished c.1938, except for one half of a double mill because its waterwheel was being used to drive a pump. It the late 1960's it was 'rediscovered' as a derelict ruin, and its importance realised as being the only complete water-powered gunpowder mill in the country. It was bought by the Faversham Society and restored by them and is open to the public. Of the machinery, it retains its 16' breastshot wheel and two pairs of edge runners.
Full details
Location
Gallery
References
Alan Stoyel, Mills Archive Foundation Trustee
Contributors
Rob Cumming
Related publications in the library
Missing information? Click here to tell us about this mill.