Bekesbourne Mill, Adisham
A wind-powered corn mill in the historic county of Kent, England.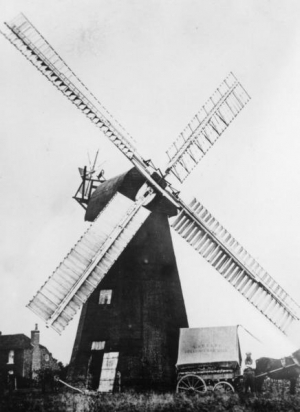 See related images and documents.
See images only.
This was a tarred octagonal smock with four sails and a fantail. It is shown on the 1819-43 OS map as Adisham Mill and then on the 1903-10 map as Bekesbourne Mill (Coles Finch, 1933, p. 152). Stoyel notes record that mill was tail-winded in 1922. Batten (1930, p. 42) recorded that the mill "is no longer working and is falling into disrepair. It is leaning over owing to a weakened cant post. The mill was probably built during the last century". Coles Finch (1933, p. 152) reported it "standing but derelict", and then in an addendum when his book was nearing completion recounted its destruction on 29 August 1933 by a grass fire that spread to the mill (p. 311).
EW and BD Stoyel visited on 24 June 1971 and recorded "The presumed millhouse is situated at TR206545 very high up and remote. We could see no apparent signs of the mill".
Millers:
1845, Burton Stephen, Bekesbourn, Canterbury
1847, Kennett Thomas
1851, 1855, Longhurst F, Beaksbourne, Canterbury
1862, 1866, 1870, 1874, Bax Robert, Beaksbourne, Canterbury
1878, 1882, 1887, 1890, Jarvis Edward, Beaksbourne, Canterbury
1899, Sheaf William, Beaksbourne, Canterbury
1903, George Sheaff, Beaksbourne, Canterbury
1922 The last miller to work the mill was Edward W Baker
Full details
Location
Gallery
References
ASFC-23382 - Kent windmills by parish, A-C
Batten, M I, English Windmills Vol. 1 (The Architectural Press, 1930)
Coles Finch, William, Watermills and windmills (C W Daniel, 1933)
Frazer, Peter, mill researcher, 2006
Missing information? Click here to tell us about this mill.