Jill Mill, Clayton
A wind-powered corn mill in the historic county of Sussex, England.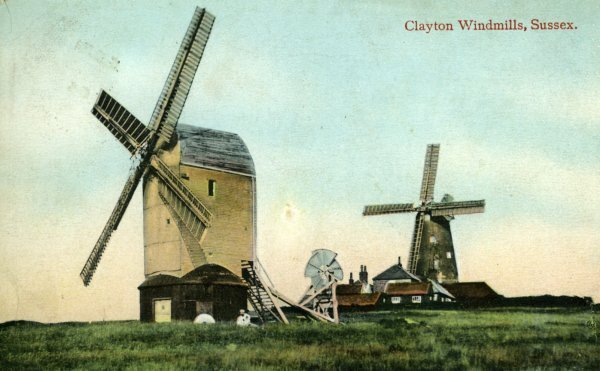 See related images and documents.
See images only.
Jill post mill was constructed in 1821 and originally stood in Brighton. Around 1850, James Mitchell sought to add a second windmill to his existing post mill, Duncton Mill, on this well-winded site on top of the Downs at Clayton. In 1852, Mitchell purchased Mr Lashmar's post mill which, due to the rapid expansion of Brighton, had been deprived of wind and was standing idle. The mill was partly dismantled and moved in manageable sections up to the Downs, where it was re-erected. A large area of the hillside had to be excavated and levelled to provide space for a 90ft-diameter turning circle for the "tailpole fantackle", which was a speciality of millwright Samuel Medhurst of Lewes.
Jill windmill was joined by the tower mill known as Jack following the demise of Duncton Mill. The two mills were owned and operated by the Hammond Brothers, Joseph and Charles, from 1867 (on the death of James Mitchell) until 1882 when Joseph left, Charles continuing alone until 1903 when the mills were sold to Mr Wood of Hassocks. They ceased to be used in 1906. Jill lost her tailpole and fantail early in her retirement and was loaded with chalk to prevent her from swinging about in the wind.
Prior to 1905 the weatherboarded roof and front wall of Jill Mill had been covered with sheet metal. This undoubtedly helped to preserve the mill in a reasonable condition. In 1958 Henry Longhurst, the golf writer and broadcaster, conveyed Jill Mill to the local district council. Restoration of the mill to full working order was mainly carried out by volunteer labour, after some tasks had been completed by millwrights E. Hole & Son of Burgess Hill. Repairs commenced in 1978 and the sails turned again in October 1983. Flour was produced by wind power once more on 10th May 1986, for the first time in eighty years.
Jill windmill is a large white-painted post mill constructed in the Sussex tradition. The three-floored mill body rotates above a two-storey tarred wooden roundhouse which is built on a low brick plinth. The windshaft is of wood with a cast-iron poll end, dated 1831, to carry the sail stocks. There are four patent sails, termed "sweeps" south of the Thames. Two pairs of millstones are positioned in a head-and-tail arrangement, driven by wooden clasp-arm brake- and tail wheels. The head stones are of Derbyshire Peak for grinding barley and oats; the tail stones are of French Burr for flour milling. On the lower floor of the mill body is a flour dresser of the wire machine type.
Jill windmill is looked after by the Jack and Jill Windmills Society and is Grade II* Listed along with Jack and the Mill House.
Full details
Location
Gallery
References
Anthony Bryan, Mills Research Group Database
Contributors
Mark Berry, June 2016; Sara and Oscar Jarman, July/August 2016, April 2017
Related shop products
Related publications in the library
Missing information? Click here to tell us about this mill.