Marsh Mill, Thornton
A wind-powered corn mill in the historic county of Lancashire, England.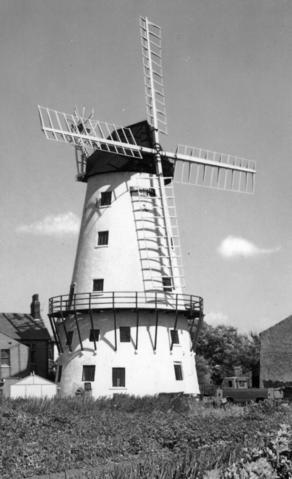 See related images and documents.
See images only.
This mill is a Heritage Partner. These organisations support our cause and share in our success. In return they receive a range of benefits, including publicity such as our featured mill pages. Find out more about the scheme...
Marsh Mill is the most complete tower mill in the North West containing a full set of machinery. The Mill was built in 1794 by the millwright, Ralph Slater. Above the lintel of the main mill door is the inscription "Bold Fleetwood Hesketh 1794".
The mill was built with common sails, with chain and wheel winding gear. By the mid 19th century a 4 bladed fan had been fitted, and in 1896 the local millwright Dick Blezzard installed the patent sails, a cast iron windshaft and cast iron gear teeth. The mill remained operational until 1922 being worked at that time by the Tomlinson's. The mill then underwent repairs in the 1950's and then again in the period 1986-90 when the mill was put back to full working order with new sails. In 1988 as part of the repairs the drying kiln was reinstated adjoining the mill.
The mill is 70ft high from its base to the top of the cap and has 5 storeys. It has the traditional Lancashire type sails, 4 double sided patent ones, and a typical North West boat shaped cap and an 8 bladed fan. There is a gallery at 2nd floor level which enabled the miller to adjust the sail cloths on the common sails which it had when built. Inside the mill the cap turns on a dead curb, there is a cast iron clasp arm brake wheel. There is an octagonal clasp arm wallower set on the upright shaft and lower down the great spur wheel. There is a sack hoist and dressing machine run off a short horizontal shaft, but the main drive powers 4 sets of stones on the 3rd floor. Three pairs are controlled by belt driven governors. On the 2nd floor, the meal floor, there is a belt driven countershaft to power a bolter and jog scry.
In 2011 the mill was upgraded to Grade II*.
Marsh Mill is owned and maintained by Wyre Council, with support from the Friends of Marsh Mill who are Mills Archive Heritage Partners.
Website
Full details
Location
Gallery
References
Anthony Bryan, Mills Research Group Database
Related shop products
Related publications in the library
Missing information? Click here to tell us about this mill.