Upthorpe Road Mill, Stanton
A wind-powered corn mill in the historic county of Suffolk, England.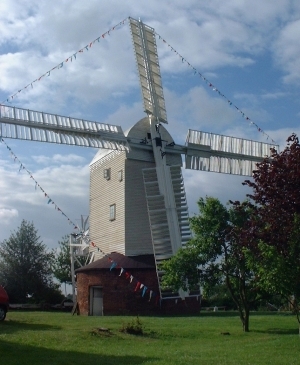 See related images and documents.
See images only.
One of four that once stood in the village, the mill bears the date 1751 on the crowntree. It is thought to have been moved here from another site in the village in 1818 as prelude to erection of a new smock mill. It worked until 1920 when the Bryant family moved to Pakenham tower mill, owned by another branch of the family. Following an Appeal organised by the SPAB a major restoration was carried out in 1940 and it was then worked again occasionally until the early 1950's. After becoming derelict again it was bought by Richard Duke, a retired farmer. He and a group of friends (all of them past retiring age), aided by volunteer working parties, returned the mill to working order by 1990 and it has been worked on occasion for demonstration. Sadly Richard died in 1993 after a short illness and the mill has now been sold to new owners.
It has two pairs of stones and formerly a third were driven in an extraordinary way from the brakewheel using an internal toothed gear ring, a long layshaft and bevel wheels. The layshaft also provided the power to a bolter, now removed (but to be reinstated). It is a strongly built mill, almost entirely framed in oak. The roundhouse, added after the move , is less well built and has suffered from settlement. As originally built the mill would have had one pair of stones and no bin floor. The windshaft is dated 1823 and this is probably the date of conversion to spur gearing using a wooden upright shaft and iron gearing. The buck has been crudely heightened to accommodate a bin floor, this being in very flimsy construction compared to the original frame. The brake wheel has been converted from compass arm and the rim has worn down so much that the original cog mortices have been exposed. The poll end is held on in the unusual way found in the Bury area which dispenses with the "crosstail gudgeon" and relies on long bolts running in the wood to captive nuts.
Full details
Location
Gallery
References
Peter Dolman, Windmills in Suffolk (Suffolk Mills Group, 1978)
Related shop products
Related publications in the library
Missing information? Click here to tell us about this mill.