The optical fluting test: guaranteeing an accurate measurement
Full details
Authors & editors
Publisher
Milling & Grain
Year of publication
2017
Languages
Medium
Digital
Edition
1
Topics
Scope & content
By Balaguer Rolls, Spain

Wheat is the third most produced cereal worldwide, after corn and rice.

At the flour production process, wheat grain goes through different process stages like cracking and extraction.

In order to properly crack the wheat grains as well as to get an optimal flourmill, rolls, having a uniform and constant hardness are needed, but it is mainly necessary to check that the roll flute is perfect.

This is highly important, since the sift is not overloaded if we have a suitable flute and goods will arrive to the compression stages in optimal conditions for an efficient obtaining of flour. In this way, we will save energy and we will optimise the cracking and extraction process.

Nowadays, there are a lot of flute measuring tools available in the sector. Nevertheless, there is just one of them that can guarantee an accurate measurement of the flute, as it cannot be manually altered: The Optical Fluting Test…Read more.

Pictures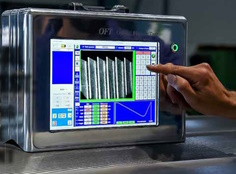 File attachments