Paul Jarvis 1926 - 2014
Full details
Authors & editors
Publisher
SPAB
Year of publication
2014
Languages
Medium
Digital
Edition
1
Topics
Scope & content
Paul Jarvis, former Mills Section Chairman and Kent researcher/restorer sadly died earlier this year.

His influence in his later years was far and wide, and he will be best remembered for being the driving force behind the East Kent Mills Group from its inception. His enthusiasm was always evident, and anyone that went to his Sunday milling sessions at Stelling Minnis would leave with clothes covered in flour and a head full of knowledge.

Academically, he produced some important work, not least his acclaimed TIMS paper on 'Stability in Post Mills'. Often forgotten is his one man effort to persuade and assist the owner of Beacon Windmill at Benenden to perform a dramatic waterproofing operation in 1979, preventing almost certain collapse. In later years, he became Head Miller at Crabble Mill in Dover.

Rob Cumming


In his own words from the Mills Section Newsletter No. 71:

"Born in I 926, almost in sight of the Pluckley smock mill ruin, I remember being fascinated by it when my mother took me out in a pushchair. I later learned that my maternal grandfather ran the mill for a short time when he was courting, but by 1926 he was a farmer and I recall sitting on his knee studying 'English Windmills Vol I by M.I .Batten', a book which I have to this day. It was from that book that I learned of the S.P.A.B…" Read more.
Pictures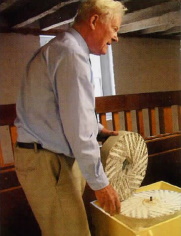 File attachments