Professor Mick Aston. A Personal Tribute
Full details
Authors & editors
Publisher
SPAB
Year of publication
2013
Languages
Medium
Digital
Edition
1
Topics
Scope & content
Some Mills Section members may be wondering why this tribute is appearing in these pages. Apart from his face, wild white hair and stripy jumpers being well known to watchers of Time Team, what connection is there between an archaeologist with a particular interest in medieval landscapes and monasticism and our own pet subject of mills? In fact there are many points where Mick Aston's interests meet our own, or should do, if we remember that mills are part of a broad study area which touches on many disciplines.

In many of his articles and books, mills are mentioned, not simply in passing, but as a significant part of the investigation and understanding of a wider historical landscape. See, for nstance, the references in Int erpreting the Landscape ( 1985 and subsequent editions), in particular to the relationship between some mill locations and parish boundaries (pp 41-2), a theme recently the subject of research by Lesley Harding, a post-graduate student with whom Mick, Sue and I spent a day looking at sites in Gloucestershire last year. That was, sadly, one of the last occasions on which we met.

Knowing Mick's long-standing interest in mills - Time Signs, the pilot programme from which Time Team evolved over 20 years ago, was filmed in west Devon and included the sites of a corn mill and a fulling mill which had been excavated to prepare for their total loss by the building of Roadford reservoir - I first made contact with him in 2005, when I suggested that Time Team might like to investigate a mill site that I thought might reveal Domesday roots…Read more.

Pictures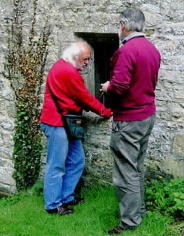 File attachments