Arthur 'Mr. Windmills' Smith - An Appreciation of His Life
Full details
Authors & editors
Publisher
SPAB
Year of publication
2013
Languages
Medium
Digital
Edition
1
Topics
Scope & content
Arthur C. Smith, 1924 – 2013

Arthur Smith, who died on Tuesday 18th June 2013 at a residential home in Newton Abbot, Devon, was best known to people in the mill world as a first class researcher and meticulous recorder windmills, in photographs as well as text. Completed surveys of the surviving windmills of a dozen English counties include about 750 Mills and old sites, all visited and recorded personally.

Well into his 80s when he died, Arthur travelled over 20,000 miles, seldom by any form of transport other than by bicycle, during the 1970s and 1980s after coming across John Vince's book Discovering Windmills. Dissatisfied with the little information that he could find written about windmills or where they were, he decided to find out and this became an absorbing interest, culminating in books recording the windmills by County, all published by himself at his own cost…Read more.

Pictures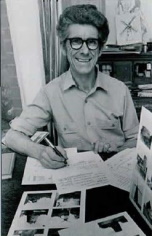 File attachments