John Reynolds 1927-2016
Full details
Authors & editors
Publisher
SPAB
Year of publication
2017
Languages
Medium
Digital
Edition
1
Topics
Scope & content
Gerald Douglas John Reynolds (always known as John) was born in Boxworth Suffolk. With his family, he moved as a child to Canterbury, but went to boarding school, with his elder brother, in Fleet. John's Christian faith was central to his life and as a boy he acted as a Server and Incense Bearer.

At I 5, John decided to follow a career as a Merchant Navy Officer. He joined the Training Ship Worcester in 1942, and studied there until 1945, when he went to sea on the Telemachus, of the Blue Funnel Line. During his service John travelled all over the world, including the USA, Australia and the Far East.

Amongst the projects he worked on at HCC were Bursledon Windmill, Whitchurch Silk Mill, Basing House and Odiham Castle. John was a perfectionist who always did his drawings in the traditional way, using a tape for measurements. In 1970 his book Windmills and Watermills was published after many years of research…Read more.
Pictures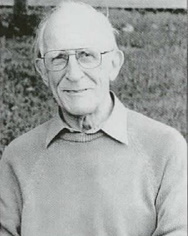 File attachments