Helen Major, 1927-2013
Full details
Authors & editors
Publisher
SPAB
Year of publication
2013
Languages
Medium
Digital
Edition
1
Topics
Scope & content
Helen Major, nee Lawrence, was born on 8 June 1927 at Blackhill, Co Durham, the only child of Rev and Mrs Cyril Lawrence. During WWI her father was involved in driver training. He became a Presbyterian minister and Chaplain at the Shotley Bridge Hospital where some of the Dunkirk troops were sent when they were rescued.

Helen was bookshop manager for the Section for many years, running up the 80+ steps to the top floor of Spital Square like a teenager! She was also a qualified proof reader, and many Mills Section publications, and in the last few years the Mills Archive publications, all benefited from her scrutiny.

Helen was an active volunteer at the Mills Archive from 2003, learning to use spreadsheets at the age of 80, adding over 20,000 names to the Mill People Database. She took particular interest in the hopes and aspirations of the young work-experience volunteers.

Helen had a wry sense of humour and sharp, witty observations of people she had met and places that she had visited..Read more.

Pictures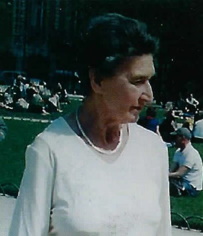 File attachments