Milling journals of the past. The Deseronto Flour Mills, Canada
Full details
Authors & editors
Publisher
Milling & Grain
Year of publication
2022
Languages
Medium
Digital
Edition
1
Topics

Cereal processes > Flour milling > Commercial millers
Wind & watermills > Rest of the World (not Europe) > Canada


Scope & content
A previous article in "The Milling World" formed the basis for a description in "The Miller" of 1 August 1881 of the Deseronto roller mills, and I thought it of sufficient interest to summarise here.

The mill was in the then little-known village of Mill Point in Ontario on the site of a comparatively small sawmill. The sawmill, originally erected and operated by H B Rathburn and his son, had grown significantly, supplemented by machine shops, planning mills, cedar mills, and stave mills. Shipyards, extensive warehouses, substantially constructed docks, lines of sailing and steam vessels were also necessary for the expanding business which father and son were developing.

The flour mill, rebuilt and remodelled in 1880 by Mr Rathburn, was supplied with Manitoban wheat by an iron screw conveyor which passed into the mill on the third floor…Read more.



Pictures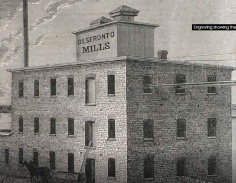 File attachments