Milling journals of the past. Milling around the World – British Empire Mills – Part 2
Full details
Authors & editors
Publisher
Milling & Grain
Year of publication
2016
Languages
Medium
Digital
Edition
1
Topics

Cereal processes > Flour milling > Commercial millers
Wind & watermills by Region > Rest of the World (not Europe) > Canada
Wind & watermills by Region > Other Europe (not GB) > Island of Ireland


Scope & content
In my previous article in Milling and Grain, I featured an article entitled "British Empire Mills" from a June 1902 issue of Milling, one of the three major milling journals, all held at the Mills Archive.

In Part 1 I described mills in Australia, India, New Zealand and South Africa, often equipped with Simon or Robinson plant. The Ganges Flour Mill Co Limited in India owned one such mill in Cawnpore, described as a typical modern Indian mill with a Simon system producing seven to eight sacks of flour per hour.

Nearer home, in 1885 Messrs R Scouler & Sons owned Dutch Mills in Ayr that were also equipped with a Simon roller plant. The mill, capable of four sacks per hour was said "to be pleasantly situated and a good type of inland Scottish mill".

In Ireland, Messrs. J Furlong & Sons owned two large flourmills, the Marina Mills, one of which is shown in the photograph. As they stood on the Cork quayside of the River Lee, sea-going vessels could discharge their cargo at the door of the mill…Read more.

Pictures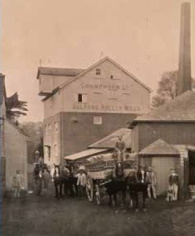 File attachments