Milling journals of the past. Milling around the World – British Empire Mills
Full details
Authors & editors
Publisher
Milling & Grain
Year of publication
2016
Languages
Medium
Digital
Edition
1
Topics

Cereal processes > Flour milling > Commercial millers
Wind & watermills by Region > Rest of the World (not Europe) > Australasia
Wind & watermills by Region > Rest of the World (not Europe) > Africa


Scope & content
In June 1902, eleven years after it first appeared, Milling published an article entitled "British Empire Mills". In those days the magazine described itself as "A Leading Weekly Organ of British and Irish Millers"; nowadays its successor, Milling and Grain has a worldwide reach, in print and electronically, that would have been unthinkable at the start of the 20th century. It is, nevertheless, enlightening to see how the infant magazine addressed its international relevance. The Milling article is well illustrated with exterior photographs of typical British mills in various countries, some of which are reproduced here. The mills selected were fitted out by one of three, well-known firms, Simon, Robinson and Turner. The setting and architecture of the buildings housing these roller mill plants were all very different, depending on the country in which they were located. The mills covered varied from the large port mills to the smaller country mill, with many recording the use of horses and wagons for the carting of the grain and flour…Read more.
Pictures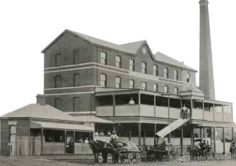 File attachments