Milling journals of the past. Rice milling around the World: The early uses of waterpower
Full details
Authors & editors
Publisher
Milling & Grain
Year of publication
2015
Languages
Medium
Digital
Edition
1
Topics
Scope & content
This article moves on from the early primitive methods that I illustrated last time, to examine the introduction of waterpower in rice milling.

Rice is the seed of the grass species Oryza sativa (Asian rice) or Oryza glaberrima (African rice). As a cereal grain, it is the most widely consumed staple food for a large part of the world's human population, especially in Asia. It is the agricultural commodity with the third-highest worldwide production, after sugarcane and maize.

A good friend in Japan gave me samples which show rice in its various states from fresh grains of rice with their husk on to the finished, polished rice. I have tried, with the help of our Archivist, to translate the writing on the packets. They are shown here to make the point that, as an educational institution, the Mills Archive tries to set its holdings into context. If anyone can help with a more detailed account, we would be happy to add it to our website (https://millsarchive.org/explore/features-and-articles).

There are dozens of articles on rice milling in early editions of The Miller (for example Volume 8, 1882, pages: 70, 352, 431, 526, 604 and 927). Most emphasise the large gulf between primitive Asian technology and modern European milling methods, without acknowledging the rapid development of the uses of waterpower well before their adoption in the West… Read more.

Pictures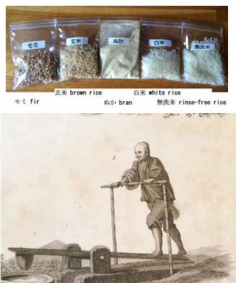 File attachments