Christy Turner & I'Anson. A relationship that spans over 45 years with flaking mills that are just as robust
Full details
Authors & editors
Publisher
Milling & Grain
Year of publication
2022
Languages
Medium
Digital
Edition
1
Topics
Scope & content
I'Anson are a family owned and managed company that manufacture and supply premium animal feed to agricultural, equine and pet food industries. Its factory in Masham, North Yorkshire, is the centre of the operation and between Masham and the Melmerby Distribution Centre, employ more than 90 people.

By just looking at the latest I'Anson news, you will see that long term employees are regularly celebrated - and it is this strong family ethos, coupled with an impressive embracement of new processes and technologies, that has been the mainstay of the company.

Focussing on high quality products and customer service, I'Anson remain market specialists in manufacture and supply of feed for beef cattle, dairy cattle, sheep, horse, and pets: everything from chickens to chinchillas!

Let's turn the clocks back 122 years, right back to the start of the I'Anson story. In the small market town of Masham in North Yorkshire, Great-grandfather of the current directors, Christopher I'Anson, acquires a small agricultural firm and a banking agency.

This banking agency eventually became the Midland Bank (now HSBC) Christopher welcomed his first farm and bank customers on July 15, 1900. Thus, Christopher became the first Midland Bank manager in the town.

Today, I'Anson the business thrives with annual revenues in excess of UK£45million/US$58.6million, supplying farming and equine customers across the UK and in more than 40 countries worldwide…Read more.

Pictures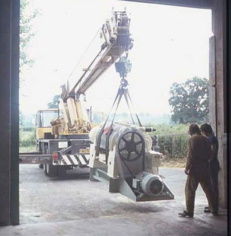 File attachments