Fortifying futures. Celebrating 20 years of preventing global vitamin & mineral deficiencies through flour fortification
Full details
Authors & editors
Publisher
Milling & Grain
Year of publication
2022
Languages
Medium
Digital
Edition
1
Topics
Scope & content
Since its inception in 2002, The Food Fortification Initiative (FFI) has grown to be a major advocate for global cereal grain fortification, addressing the pressing burden of nutritional deficiencies and their life-changing effects on health, such as birth defects of the brain and spine.

By engaging with public, private, and civic partners, the Food Fortification Initiative has helped countries around the world establish sustainable fortification programs and improved millions of lives.

The idea for FFI was born on October 24, 2002 at a policy planning forum in Mauritius that was co-hosted by Nutrition International (formerly the Micronutrient Initiative) based in Canada and the US Centers for Disease Control and Prevention (CDC). The forum was held in conjunction with a regional meeting of the Association of Operative Millers, later renamed the International Association of Operative Millers (IAOM).

In the last 20 years, FFI has grown from an idea to a key player in the global effort to fortify the world against micronutrient deficiencies. In that time, building strong partnerships with government officials, industry managers, civic sector organisers, researchers, neurosurgeons, staff of non-governmental organisations, and others passionate about creating fortification programs to prevent micronutrient deficiencies have been a core part of FFI's strategy…Read more.

Pictures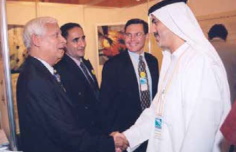 File attachments