Milling journals of the past. On the shores of Loch Ryan Messrs Hannay extend their provender plant
Full details
Authors & editors
Publisher
Milling & Grain
Year of publication
2022
Languages
Medium
Digital
Edition
1
Topics

Cereal processes > Flour milling > Commercial millers
Cereal processes > Animal feed milling
Wind & watermills > Scotland


Scope & content
The Royal Burgh of Stranraer, Wigtownshire in Scotland is situated at the head of Loch Ryan, where it has a safe and spacious harbour. At the time of this article (MILLING magazine, June 18, 1938) the writer commented on the strategic importance of it as a seaplane base on seeing a squadron of giant, triple engine bombers riding at anchor next to the more peaceful traffic of the daily service of passenger steamers to their destination of Larne in Northern Ireland.

On the western shore of the Loch stood the white walled mill of Messrs R&A Hannay Ltd, which blended in with its surroundings. The Hannays were famous in Scottish milling history, and although the Stranraer mill had been in their hands since 1845, it was by no means their oldest property.

The oatmeal mill at Corswall, five or six miles from Stranraer, was acquired by the family in 1820 and even at that time the Hannays had a record of several centuries as millers behind them...Read more.

Pictures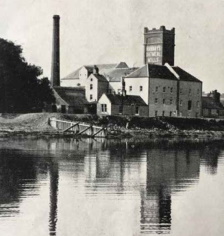 File attachments