Argonauta. Part 8.1
Full details
Authors & editors
Publisher
Milling & Grain
Year of publication
2022
Languages
Medium
Digital
Edition
1
Topics
Scope & content
Author - Dr Sergio Antolini, President of Ocrim and Paglierani, Italy

The most precious stone is the grindstone; and if it could be bound and carried in a ring, any other stone would pass out of goodness ...
Franco Sacchetti

The mouth without jaws is like a mill without a grinder (...)
Miguel de Cervantes

The first millstones, in prehistoric times, consisted of a plate of rock, of great resistance, on which was spread a handful at a time of wheat to be crushed, using other hard stone, round or flat. The presence of grooves on the contact surface increased productivity in quantitative and qualitative terms.

The rudimentary grindstone took on a more formal appearance when, with the opening at the center of the dancing grinding wheel (the upper one), the continuous feeding of the wheat was made possible for the grinding process, a process obtained by manually rotating the upper grinding wheel (as said in Sicily the dancing one).

The grinding wheels, natural or agglomerated, must be scrupulously certified for food use.

The rolling mill consisted of two rollers (first of porcelain and then almost always of cast iron) with smooth or striped surfaces, which when combined and turned in the opposite direction reduced the grains in the required granulation, after these had reached the desired gap between the two rotating bodies.

Bread, an element that has always been present in art, becomes an icon of reality, it is its symbol, it represents life itself, it represents man's ability to think, to use nature, to satisfy his own needs with intelligence (Déjeuner sur l 'herbe by Manet or the Ferrara bread of metaphysical painting)… Read more.


Pictures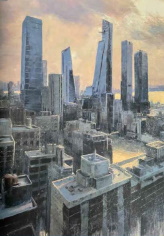 File attachments