Edible coffee cups. Addressing the urgent plastic waste problem with innovation
Full details
Authors & editors
Publisher
Milling & Grain
Year of publication
2022
Languages
Medium
Digital
Edition
1
Topics
Scope & content
Today, around 400 million tons of plastic waste are produced every year – that's according to a 2021 report from the United Nations Environment Programme (UNEP). As much as 36 percent of all plastics produced are used in packaging, including single-use plastic products for food and beverage containers, according to UNEP.

In response to this, Swiss food tech specialists Bühler Group and Bulgarian start-up Cupffee have been joining forces to address the urgent problem of plastic waste with innovation since 2016. Now, supported by Bühler solutions and know-how, Cupffee is ready to double the production volume of its edible, crispy wafer cups, increasing its impact for a sustainable future.

Cupffee has been producing edible cups since 2014. It all started with a dream. The Bulgarian entrepreneur Miroslav Zapryanov aspired to see the company's biodegradable cups replace the single-use coffee cups. In his hometown, Plovdiv, Bulgaria, the numerous cafes and restaurants created plastic waste that Miroslav Zapryanov, CEO and Founder of Cupffee, craved to see replaced by a sustainable alternative. That is how the idea of Cupffee was born.

"I had the idea for edible coffee cups back in my early school years. I was inspired by the fact that a green solution was urgently needed to combat the billions of plastic cups generated daily around the world," says Mr Zapryanov.

"The Cupffee company was founded in 2014 and was quickly recognised as a pioneer by other like-minded people and companies who helped us with our rapid growth and expansion."…Read more.

Pictures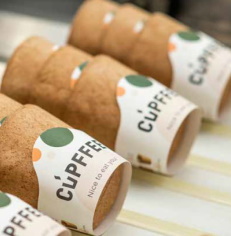 File attachments